It has been and will be a busy, hard week for me. This past weekend I helped shoot a wedding for a couple from our church that got married. I have upward of 1,000 photos to edit. Also, We decided to go to our annual bible conference. I have been on and off about going. It is a lot of work and I feel overwhelmed by the energy it will take. I decided to go because my kids love it and would truly miss out on special memories not to go. So my week is filled with pulling out summer clothes, washing and packing in preparation to leave Sunday. So if I am MIA you now know why....it is no small thing to prepare a big family to go out of town for a week.
When I was in the garage looking for the boys summer clothes in the right size I accidentally opened the newborn box. Oh how the tears fell as I pulled out the sweet little items my Jonathan should be wearing right now. My arms have actually ached lately to hold him. I feel a deep emptiness like I have forgotten something, or something is missing. Of coarse there is someone missing, and will be until Heaven.
My husband told me he had a dream about Jonathan. I was thrilled and wanted all the details. I have not been blessed with any dreams of him other than when we first came home from the hospital, and those were nightmares. My husband said they were walking on a spectacular beach more beautiful than any beach he has been to. He has traveled and surfed exotic places ALL over the world so that is really saying something. So My husband and Jonathan were walking hand in hand. Jonathan was a little boy in faded light blue Jeans and a white tee shirt. At the end of their walk Jonathan looked at his daddy and said......"Daddy, Is mommy sad?" That is when my husband woke up. I am not big on dream interpretations or anything but I have spent quite a bit of time pondering Jonathan's question in the dream.
Of coarse I think Jonathan wants me to be happy but I have struggled with Joy since he went to Heaven. I know he is blessed and Heaven is incredible, but I miss him so much. So here I am left with the pieces of me and my vision of our family. I strive for contentment,
and I know
peace of mind will return, but lately the sad days have outnumbered the peaceful ones. I think one reason this is a really difficult season for me is because it is the season I expected to have a new baby. Newborns are my absolute favorite, I adore the first few months and cherish them with all my heart. Knowing I should be cuddling my wiggly little baby swaddled in a soft blue blanket, breaks my heart.
On I go living through the pain,
trying to not let it define my life.
God's grace enables us to 'face the music' even when we don't like the tune.
I have missed my blog reading the last couple of days as I have been swamped with busyness. I really look forward to visiting everyone and getting an update. Link up and stop by a couple of other blogs and leave a word of engorgement!
Unless the Lord had given me help,
I would soon have dwelt in the silence of death.
When I said, "My foot is slipping, "
your unfailing love, Lord, supported me.
When anxiety was great within me,
your consolation brought me joy.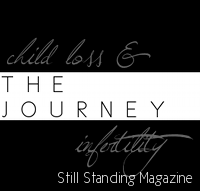 Link up today!
The second link up is for the still standing Journey link up!